You will never get bored here, there's plenty of things to do! Take the boat to the island, or explore the lake. Or why not check out the nearby attractions?
Smålandet – Moose Safari
It's only a 31 minute drive (43 km) by car to the popular Moose Safari in Markaryd. Drive through a large moose enclosure in your own car. Experience the King of the Forest very close up along a winding 3-kilometer forest road.
Homepage »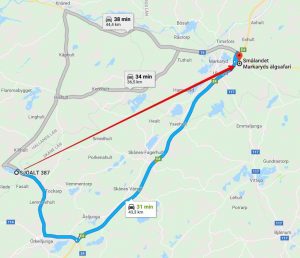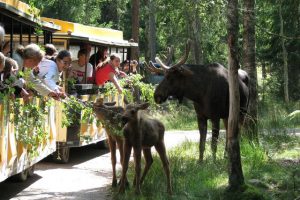 Kungsbygget / Vallåsen
It's a 5 minute drive (10 km) by car to Kungsbygget or Vallåsen Here you will find attractions like Zipline, Summer toboggan, Bungee Rocket, Bungee Slingshot  or serious mountain biking (Pro bikes for rent here).  Kungsbygget is the coolest adventure of the summer!
In the winters, this place instead will turn into a full blown skiing resort. Swedens southest skiing with multiple slopes and lifts. No need to bring your own skis, you can rent all equipment you need online and pick it up when you get there.
Visit Kungsberget for more information about skiing or summer hiking.